Sprint Car Racing Association (SCRA) 360 Sprint Cars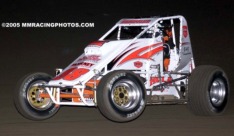 The Sprint Car Racing Association's (SCRA) 360 Division made it's debut on February 25, 2005 at Tulare's Thunderbowl Raceway. Utilizing 360 cubic-inch powered Sprint Cars, this division's core membership is based in Central California. While the division may be new, many of the stars have campaigned on the West Coast for years.
2005 Series Champion Chad Boespflug is pictured (above)

Jonathan Logan


Peter Murphy

Richard Harvey Jr.


Davey Pombo


Danny Olmstead


Rusty Carlile


Danny Faria Jr.