MARYSVILLE RACEWAY PARK – March 7th, 2009…Paul and Kathy Hawes' Marysville Raceway Park would be my destination for relaxation. The newly refigured ¼-mile bullring pits were packed with 33 Winged 360 Sprint Cars and 17 Spec-Sprints. My report will focus only on the happenings from the Winged portion of the evening.
The Winged pits had a stellar field. When the Outlaws' Ocean Speedway show fell victim to the weather gods, it opened up a unique opportunity for the fans. Bartlett, Tennessee's, World of Outlaws hot-shoe, Jason Sides dropped a 360 in his car, and the quiet masher from Indianapolis, Indiana, Shane Stewart drove the always capable Paul Silva mount. Also gracing Marysville's pits were surprise heavy hitters: Tyler Walker and Tommy Tarlton. Toss in the always racy "local" California contingent and we had the makings of one helluva night in store for us.
After working in the heavy race track, it was time to "get after it!", and Tommy Tarlton did just that in the Tarlton & Son Inc., Maxim No. 21. "Double-T" proceeded to lay down the quickest time on the evening with a 12.744 lap.
Richard Brace, Jr. looked good considering a two-year hiatus.
Top 10 Qualifiers:
1. Tommy Tarlton / No. 21
2. Shane Stewart / No. 57
3. Mason Moore / No. X1
4. Brad Bumgarner / No. 88
5. Tyler Walker / No. 24
6. Jim Richardson / No. 8
7. Kyle Larson / No. 5H
8. Steve Tiner / No. 31
9. Colby Wiesz / No. 35T
10. Ricky Wright, Jr. / No. 35
Heat 1
Mike Monahan would get the jump. However, a tangle ensued on the front straightaway. When the green flew again, Tyler Walker immediately went to work. In the fast paced event, Monahan and Walker put on a show for the fans. Coming to the white flag, Walker dove the NMI Contractors No. 24 down to the bottom of the race track, but wisely didn't press the issue settling for 2nd. Good hard racing for the top-spot. 4 would go to the feature.
1. Mike Monahan / No. 49
2. Tyler Walker / No. 24
3. Colby Wiesz / No. 35
4. Herman Klein / No. 91
Heat 2
Gregg was hooked up and flying in the No. 53. Great racing mid-pack broke out with Korey Lovell, Ricky Wright, Jr., and Shane Stewart waging war. An impressive Wright, Jr, held onto the 4th and final transfer, putting traveler, Stewart in the "B".
1. Andy Gregg / No. 53
2. Mike Stallings / No. 83M
3. Korey Lovell / No. 71L
4. Ricky Wright, Jr. / No. 35
Heat 3
Some great racing action in this one, provided by the methodical and calculating, Jason Sides. Sides came from his 4th starting spot, moved around on the race track to find what he was looking for, and after finding it; "Double Down" was gone!
1. Jason Sides / No. 7S
2. Robbie Whitchurch / No. 82
3. Andy Forsberg / No. 92
4. Mason Moore / No. X1
Heat 4
Richard Brace, Jr. jumped out to the lead. Brace, Jr., who hasn't raced in two-years led the fast paced race from start to finish. Thrills provided by Steven Tiner and Brad Bumgarner kept the crowd roaring for more.
1. Richard Brace, Jr. / No. 21J
2. Doug Hunting / No. 18
3. Jimmy Trulli / No. 33T
4. Steven Tiner / No 31
B Main
Tommy Tarlton and Shane Stewart would be the front row for this 12-lap affair. The drivers had to be on the gas or go home, as there would be no time waste on the hooked up surface. With only 4 going into the feature, Stewart took advantage of his front row starting spot and rocketed into the lead. Tarlton again showed massive speed as he secured himself a spot into the feature.
1. Shane Stewart / No. 57
2. Tommy Tarlton / No. 21
3. Brad Bumgarner / No. 88
4. Kyle Larson / No. 5H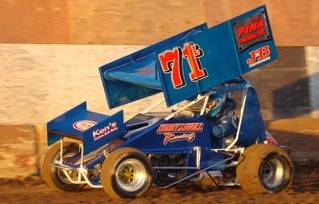 Korey Lovell took his A.R.T chassis to a solid 3rd place finish in the main event.
30-Lap Main Event:
The "10 pill" would make an exciting race even more exciting, as it put the quick guys in the middle of the lineup.
It would be Forsberg and Lovell on the front tow and in charge of the field. When the green flag flew, Forsberg jumped out to an early lead. Racing slowed early in the race, as young masher, Mason Moore barrel-rolled the No. X1 through turns 3-4.
When racing resumed, the racing got hotter and the intensity picked up. Forsberg was tattooing the field, but Sides was charging through the pack. 4 and 5 car battles broke out allover the speedway.
All eyes were on ferocious battle that included; Sides, Tiner, Tarlton, Trulli, Larson, Lovell and Walker. They were running each other hard, inches apart throughout the race swapping positions every lap. Forsberg was doing a masterful job of getting himself through lapped traffic.
Sides was given the opportunity to take the lead from Forsberg on a few occasions as the yellow flew. On the restarts however, Forsberg would pull away and took the popular win. Hats off to the hard working team as they made the right calls on massaging their mount throughout the night.
"We weren't even going to race this race," a triumphant Forsberg said. "We spent around $1,500 during the winter. This is all of our equipment from last year! The Outlaws don't like tracks like this (heavy and rough), they like them hard and smooth. I hope it's like this in Chico! (Mini Gold Cup)"
Top 10:
1. Andy Forsberg / No. 92
2. Jason Sides / 7S
3. Korey Lovell / No. 71L
4. Jimmy Trulli / 33T
5. Tyler Walker/ No. 24
6. Kyle Larson / No. 5H
7. Steven Tiner / No. 31
8. Shane Stewart / No. 57
9. Colby Wiesz / No. 35T
10. Mike Monahan / No. 49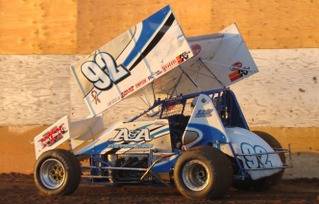 "Alan, till that thing up!," main event winner Andy Forsberg referring to his preference of a "cowboy up" type of race track to promoter, Alan Padjen for this weekends Mini Gold Cup.

"Big Cahones Club"

This kid is fast improving, and it will be a surprise to me if he doesn't snag some main event wins this season. His name? Ricky Wright, Jr.

He's on the gas and minds his own business. He's underrated in my opinion: Korey Lovell

Blazing speed and he knows how to use it: Tommy Tarlton

What can't be said about the BR Motorsports employee? He is crafty behind the wheel and gets all that he can out of a Sprint Car: Steven Tiner

This kid impresses me every time I see him hit the race track. Very smart and very aggressive: Kyle Larson

He runs as hard as anybody, but doesn't take them with him: Colby Wiesz

NO FEAR! Likes to run the top, as evidenced by has remarkable run at Marysville: Tyler Walker

A master in lapped traffic, and doesn't entertain the thought: "give up": Andy Forsberg

Don't let his finish fool you; this kid is on the hammer: Mason Moore

His family has been involved in Sprint Car racing for as long as I can remember, I hope he is too: Brad Bumgarner

Good reputation, on the loud pedal, and a fan favorite: Herman Klein

When the green flag drops, he's got his elbows up and he's moving forward: Andy Gregg

They call him the "Mad Man", and he will run you as hard as anyone and could care less who you are. Intimidated? I don't think so: Mike Monahan

Special Thanks!


I would like to extend a special thanks to Paul and Kathy Hawes, Lance Jennings, my son Devin Costa, and all of the fantastic drivers and crews that make Sprint Car racing the premier form of Auto Racing.

I had a fantastic weekend because of all of you. Now it's onto Silver Dollar Speedway in Chico for the Mini Gold Cup!