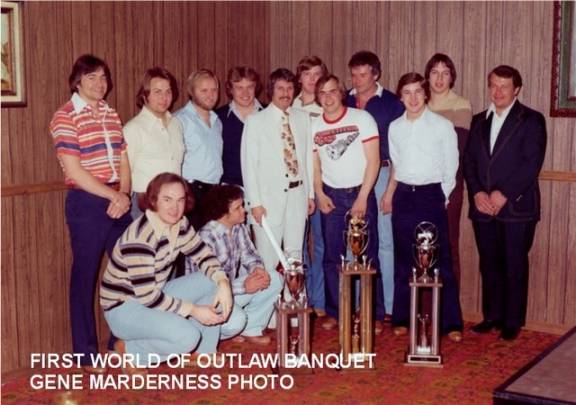 Kneeling (left to right) Bobby Marshall, Shane Carson. Standing (left to right) Rick Nichols, Dub May, Bobby Allen, Steve Kinser, Ted Johnson, Danny Smith, Johnny Beaber, Rick Ferkel, Sammy Swindell, Lee Osborne, and Don Mack.

Costa: How did your passion for Sprint Cars and Midgets come about?




Marderness: It was mainly through my parents. My parents really enjoyed the races. We went Friday nights, Saturday nights and Sunday's. That was our main thing that we did together. We would take a picnic lunch along, and we had a nice family outing.

Costa: How long have you been shooting the sport?




Marderness: I began doing a lot of shooting with 'super-8' film - in the '60's and early 70's. Then in about '76, I switched to stills. But when I was a kid, I had a Brownie camera, and I took it along to the races and took pictures.

Costa: You go way back my friend. For example, you have some famous pictures from the first ever World of Outlaws banquet. What was that first banquet like?




Marderness: Well the first one was a nice sit down dinner believe it or not. It wasn't rough-and-tumble like one would probably think. Everybody was dressed real well and it was really well run. I have pictures of people at tables together and a lot of great memories from the first banquet.

Costa: You were taking amazing photos before all the new technology hit the streets…




Marderness: I wasn't too good at it in the beginning. I'll tell you, Mike Arthur helped me a lot in the beginning. I got to know him when I was traveling around, and saw him every now and then. Mike really helped me with the technology part of it.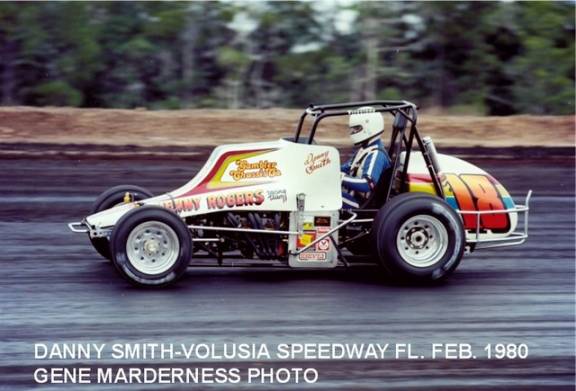 Costa: Who were some of your favorite drivers to photograph?




Marderness: Well, my favorite driver was Tommy Hinershitz. Unfortunately, I only have one shot of him. I just really admired him. Back in about '87, I had the opportunity to sit down with him for about 2-hours. To me, that was one of the biggest thing's to happen to me in my life. Shane Carson was fun to photograph, and we're real good friends. You can't beat Steve Kinser. Jan Opperman and Toby Tobias were fantastic too shoot too. There are just too many to mention; I have a bunch of favorites.

Costa: What's your favorite picture that you've taken?




Marderness: Oh, I don't know if I have a favorite. I have a candid of Opperman that I took in '77, with his brother's hat on, and he's winking. There's just so many that I enjoy. The first picture from the Outlaw banquet, with all the drivers in it, is very special. Another picture that I find special is the picture that was published in Open Wheel #1. It had the top-3 finishers from the '79 season; Steve Kinser, Sammy Swindell, Rick Ferkel, and Ted Johnson in the background.

Costa: Who staged that picture?


Marderness: I did. I asked them to do it, and they were so willing, because they were just getting the Outlaws going, and any PR that they could get, they were happy to help in any way.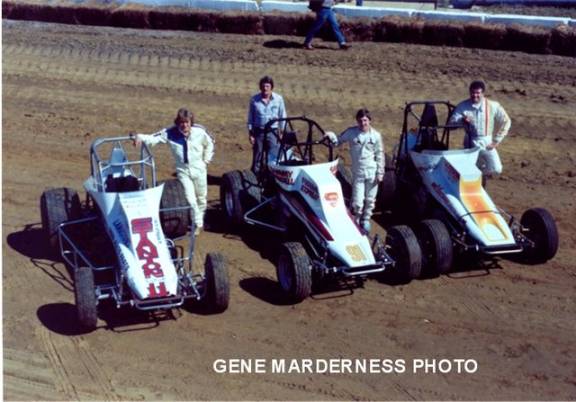 '79 World of Outlaws top-3. (L-R) Champion, Steve Kinser, (2nd) Sammy Swindell, (3rd) Rick Ferkel. In the background is Ted Johnson.

Costa: You and well known writer John Sawyer, sure hit a lot of races together…




Marderness: Yes we did travel a lot together. We went to wherever we felt that we wanted to go, and wherever the races that we thought would be interesting. John and I met at East Bay Raceway in '77. He saw that I was taking photographs, and asked if I would be willing to contribute some photos for his stories. That's how we got to know each other, and we're still very good friends today.

Costa: I've heard stories about you two. You both sacrificed a lot of sleep in those early years…


Marderness: (laughs) Yes we did. In early March for instance, Sawyer and I would catch a flight out early on a Friday, and catch the Friday and Saturday Outlaw shows at Devil's Bowl, or wherever they might be. If it was a Sunday race, we would catch the 'red-eye' back, and get in at 3-or-4 in the morning, and then go to work; we did a lot of that.

Costa: Just like a driver having to make adjustments from winged to non-wing racing, do you have to do the same taking pictures?




Marderness: Oh yeah, I do. If you're shooting non-wing cars for a while, then all of a sudden you're shooting winged cars, sometimes you will cut off the top of the wing, because you didn't make the adjustment for the wing at the top. Then when I shoot non-wing cars, the car may be too far forward and things like that. You have to really keep thinking.

Costa: Any advice for the aspiring motorsports photographer's out there?


Marderness: You need a real good flash, and I also would suggest a real good lens. I don't think a real expensive camera is as important as the lens, and the flash. Nowadays, because of insurance reasons at some of these tracks, you can only get so close to the action, so you will need a good flash and lens, to carry the picture.

Costa: What tracks did you really enjoy shooting at?


Marderness: East Bay was a real nice track to shoot at. You could get fairly close there, and it was safe. I loved shooting Eldora in the '70's. Terre Haute is probably my favorite ½-mile track; they really put on a show there. Gas City would be another one; it is the ultimate photographers delight. The way they motor in there coming into turn-3 is just amazing!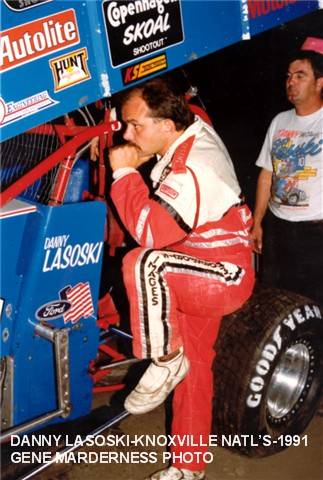 "The Dude" in deep thought at the '91 Knoxville Nationals

Costa: So what's on the horizon for you, Gene?




Marderness: I photograph for two Sprint Car clubs. One is the Tampa Bay Area Racing Association (TBARA) and the other is a new club, which Don Rehm started in 2008, called the Checkered Flag Sprint Series (CFSS). I knew a lot of the people from years ago. They've got a good mix of drivers; they're a real fun group.

Costa: Your sacrifices and dedication are not overlooked. Thank you for everything that you've done for our sport…


Marderness:

Thank you, I really appreciate that. But there's other guys, who have done more than me, and also go to a lot more races today than I do. Photographers, Mike Arthur, Ken Coles, and Dennis Krieger, just to name a few, have helped me so much along the way. I just love this sport, and the people involved in it are fantastic.

Catch a bunch more of "Genes' Gems" at: http://www.stevehardin.com/marderness.htm