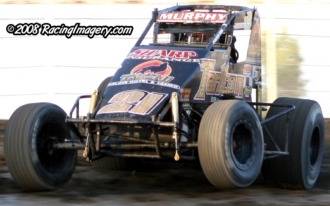 Costa: You had another great season in Tom Tarlton's car.
Murphy: Yes we did! We won all 4 championships that the Bandit series had that were up for the taking (Bandit, Hanford, Bakersfield and Santa Maria). We also won the Bandit/VRA Grand Slam Series championship this year too, making it the 2nd time that we've won it (the other championship came in 2005). We were very consistent this year.
Costa: What do you attribute your success too?
Murphy: The team! I have a great car owner and the guys that work on it are really dedicated. It really is a team effort. We just keep getting stronger-and-stronger. I'm getting older too, so I think a lot more out on the race track. I'm also very confident - I don't mean that in an arrogant way. I just know barring any mistakes or something going wrong, we'll be right there.
Costa: Was "the big fella" (Steve Kinser) proud of you upon hearing of your successful season?
Murphy: I know that he knows that I've won a lot of races. When he was in California at Chico (Gold Cup) we had a real fun time together. I'm sure that he's pretty happy with what I've done. He's helped me a lot in my career, and I can't thank him enough for that.
Costa: What race this season makes you think, "Man that was an awesome race!"
Murphy: There's couple of them really. One came at the Bakersfield Grand Slam race, and we started in the 10th or 11th position, and we won it. Another great race was at Santa Maria for a Bandit race. It started out with a battle with Greg Porte, then it became a battle with Danny Faria, Jr. Danny got in front and started pulling away a little bit, then I found the rubber and I came back up on him. On the white flag lap I was right on his bumper! It was an incredible race!
Costa: You won 12 main events this year. Share one race that you won when things were going downhill…
Murphy: One night at Santa Maria we were running around 6th, and we really weren't running all that good. There was a red flag and Blaine (Steele) made a change to the car. When the green flag came out, I moved to the top of the race track and I went from 6th to the lead – eventually winning it. It was an incredible feeling.
Costa: You did some winged racing this year. Are we going to see more of that next year?
Murphy: Yes! We're looking to run with the World of Outlaws at the beginning and end of the year. We are also looking to compete in races like the Gold Cup, Dirt Cup, Trophy Cup and some Golden State Challenge races too. We're not going to get caught up in a points deal were we can't run where we want. Depending on how everything goes - what we're looking to do is run about 25-30 non-wing shows, with some 410 stuff thrown in there, and about 20 winged shows.
Costa: You worked with NHRA Funny Car driver Ron Capps recently. How was he to work with?
Murphy: Yeah, he was racing a Multi-600 at Plaza Park (Visalia, CA). He was cool, he was really cool! He handled himself so well. To me he typifies anyone that's really good at what they do. He wasn't 'big headed' or anything like that. He was very easy to talk to, and he wanted to learn what he should or shouldn't be doing. It was really a great experience and one that I'll never forget.
What if Capps asked you to take his Funny Car for a run, would you do it?
Murphy: (laughs) probably not! He told me I'd have a blast in one of them and I don't doubt him one bit. We struck up a really good friendship.
Costa: You own Pro Signs in Fresno, CA. How's that working out for you?
Murphy: It's going great, I really enjoy it. 90% of our work is on race cars. The customers that I have are fantastic to work with. Recently, we had the Indy Car that Bobby Unser drove in the 1972 Indianapolis 500. It was the first car to go over 200mph, and it sat on the pole. We were asked to reproduce the stickers for it. That's a piece of history and that was way cool. We also did the car that Capps drove at Plaza Park. It was a tribute to the late Eric Medlen, and John Force's people were real happy with it.
Costa: Any parting comments?
Murphy: I would like to thank everyone that supports the car. I would also like to thank Tom and Tommy Tarlton and all the boys that work on it. I would also like to thank all of the fans that come out and support our sport.