Marysville Raceway Park Ė Last Saturday, (June 14th) we loaded up the truck, and stuck a $100 worth of fuel into the pickup and made our first trek to the new 1/4-mile Marysville Raceway Park.
After arriving one can quickly see lots of nice improvements allover the speedway as well the facility itself. Paul and Kathy Hawes are doing a fantastic job in my opinion, and are also working hard to get rid of the tracks past reputation.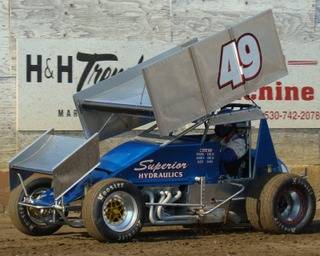 -Feature Winner ďThe MadmanĒ Mike Monahan!
We are very lucky to have Paul and Kathy doing what they are doing for the speedway. Love the joint or hate the place, you canít take anything away from these fine folks who are pouring their heart and soul into MRP. Not to mention some major money.
Fellow racing enthusiast and best friend, Lance Jennings from the well known Scrafan.com website would meet me there. He came up from his Los Angeles area home, and was at Chico the previous evening, enjoying some winged and non-wing Sprint car racing. Lance is not only a great friend, but an honest to goodness true to the sport fan, who loves our sport. I always cherish the time that Iím able to visit with another hardcore Sprint car fanatic like myself.
As I was making the usual pit stroll, I got a surprise when I ran into my buddy and Sprint car masher, Steven Tiner. Steven now rests his head in Fresno. Iím really glad that this gasser is back in California doing his thing.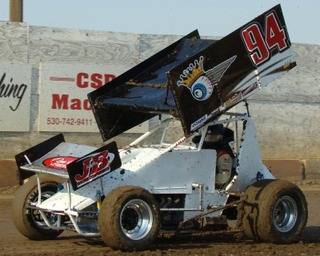 -Steven Tiner Gettingí ready!
I was also happy to see my buddy ďBeanĒ who has been wrenching on Lovell Bros. Sprint cars for many, many seasons. For those of you that donít know ďBeanĒ, youíve got to take a trip down to Korey Lovellís trailer after a race and visit with this guy. Heís another guy that I like to be around, as his love, dedication and passion for our sport will no doubt rub off on you. He is a class act all the way.
I had many people ask me, ďWhat are you doing here?Ē Hell, if itís got dirt on it, I donít care where I go. I donít follow just one series or go to one track. I go to different tracks and follow them all. I have no set schedule, so I never know where Iím going to end up. I love making new friends at different tracks and meeting different drivers from different clubs.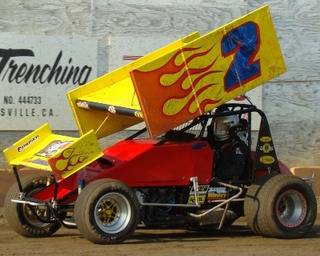 -Brent Dothage is ALWAYS hard on the gas!
The warm evening got started with Mike Wasina, Jr. setting quick time over the 17-car-field.
What I really liked was that there was no wasting time for the heat races. Instead of having 5-6 car heat races to drag out the program, we went right into 2-strong and entertaining winged Sprint car heat races. They were won by Korey Lovell and Troy DeGaton.
The Spec-Sprints would also have 17-cars pull through the gates as well. And again, we, the fans would witness 2-strong heat races. Josh Tucker and Tony Richards would win their heats respectively.
As the sun baked the race track, and the support classes would have their turns on the speedway, the track soon became a one groove bottom deal. Now, thatís not a slap at MRP. I just as you have seen the Ďbestí tracks turn this way.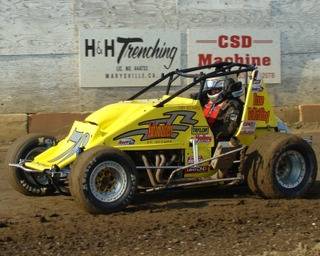 -Spec-Sprint main event winner Tony Richards!
In front of the packed grandstandís, Nevadaís veteran shoe-Mike Monahan lead the whole way. He did what he was supposed to do. He hit all of his marks and stayed out of trouble. Congrats to a guy that has been at this for a very, very long time, and who also has seen and done it all. Itís guys like him that keep this deal that we love so much going.
The Spec-Sprint main event was last on the card. Tony Richards dogged John Anderson the whole way. Richards finally got under Anderson to bring home the win. Also in the main event, Josh Vieira took a vicious series of high-spiraling barell rolls. He was hard on the gas, and was going to make an outside move. However, the car on the inside drifted up into his path and he hopped a wheel, launching him into the hot Marysville sky.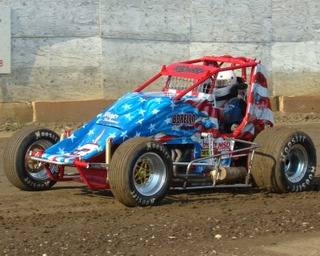 -A picture of Josh Vieiraís car before the flip!
He would have kept flipping, but the car hit head on into the top of the k-rail. He was shaken, but thankfully he was able to walk away from the incident. The front of the car was completely destroyed. At the end of the night, we followed Korey Lovellís lead in getting the battered car into the trailer.
I am extremely excited about the improvements at MRP. I look for bigger and better things from Paul and Kathy Hawes on the horizon, as their dedication is already showing. If you havenít been out there yet, I suggest you check it out. I know that I will be back.
Check out the MRP website http://www.marysvilleracewaypark.com/ or call the speedway (530) 743-1327
*****All photos courtesy Lance Jennings