Waterford, Ca…Hello race fans! I must first begin by apologizing to all of you for taking so long to pound the keys. Well, I dusted them off, so let's go!
I would like to talk with you about a book that I have recently read, and one that I highly recommend. This great book is called "Lone Wolf". It's about the life and times of one of the best ever to climb behind the wheel of a Sprint car-Doug Wolfgang.
"Lone Wolf" is a history book and an autobiography all rolled into one.
Dave Argabright is the writer, so it doesn't take a neurosurgeon to figure out that this is going to be one helluva read.
I'm an avid reader, and have read some of Dave's other masterpieces; "Hewitt's Law" (Jack Hewitt), "Still Wide Open" (Brad Doty), and "American Scene" (Dave's collection of stories). All great books too, I might add.
However, I really felt compelled to let you, the fans know about this book, as it has really played on my heart strings.
Bar-none guys, this is by far the best book I have ever read.
We all know that Doug was an absolutely bad-to-the-bone Sprint car driver, but in addition to his magnificent driving prowess, he was also damn sharp with the wrenches, and obviously a great welder.
What I really enjoyed about this book, was how honest he was about himself. I don't like a lot of BS, or things to be sugar coated, and none of that flies in this book.
Wolfie is brutally honest, and I for one admire that. He pulls no punches about others, himself included.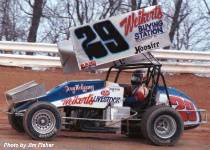 (Jim Fisher Photo)
Wolf spits out words with fire, and his determination to become one of the best is unparallel. And he also talks candidly about the sacrifices that he made to become one of the best Sprint car drivers ever.
He also takes us on a journey from his humble beginnings, and what he achieved to become included as one of the elite "Big-3" in Sprint car racing.
As we fast forward in the book, we travel to the fire at Lakeside. This part of the book really touched me. I will just say that he's an incredible human being, no doubt.
Doug touches on many topics. He speaks about his struggles, and things that he had to overcome to race, and the changes that he had to make to become a happier person.
If you looked up the word "perseverance" in the dictionary, you would see a picture of Doug Wolfgang. After the fire, the odds were definitely stacked against this great man, but, just like we remember him being relentless behind the wheel of a Sprint car, he soldiered on, did what he had to do, and was relentless on putting things back together. This is truly an inspiration to me.
As most of you already know, he created his chassis company, "Wolfweld", located near his hometown of Sioux Falls, South Dakota.
The photos in the book alone are worth the $30.00. You will see a lot of pictures that will bring back some really fond memories.
I do not know Dave Argabright, but I'll tell you this race fans, we are extremely lucky to have a guy out there like him, that can bring us a story like "Lone Wolf".
In ending, Wolfie may not be racing Sprint cars anymore, but he's even more badass in my eyes now.
Doug Wolfgang was a hero of mine before this book. But I love the guy even more now, I think you will too.
Get "Lone Wolf" here http://www.daveargabright.com/ or call (317) 631-0437
Everyone has a story about Doug Wolfgang. Let me share mine with you…
It was at Kings Speedway in Hanford, California for a Wednesday World of Outlaw showdown. Doug was mashing the gas in the Williams Bros. #8 at the time. After the race, I went down in the pits, and there was a pretty good line of fans. I had a program that I wanted him to sign, and I also wanted to purchase a shirt. I finally reached him. He was perched at the side of the trailer, and he had the arms of his fire suit tied to his waist.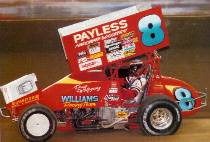 Doug looked like an absolute warrior! After he signed my program, I asked him if he had any shirts, and he told me no and apologized. I said thank you, and started to walk away. All of a sudden he yells for me, "Are you going to be at Ascot this weekend?" I told him maybe, and he kept talking to me. The truth is I didn't know what he was saying.
Everyone stopped and was watching Doug talk to me. But it just wasn't registering on my end. The reason was that I was just in complete awe that this legend was taking the time to talk to me, and he made me feel like a star.
Thanks Doug…..