Central Pennsylvania Sprint car drivers are a tough breed. I got to talk with a driver I've come to admire. Brian Leppo who hails from Spring Grove, Pennsylvania is fast becoming a threat to win each and every night out. I talked with the nice young man about his past, future, and what it takes to race against some of the toughest competitors to strap into a Sprint car. The whole Leppo family has sacrificed a lot to help Brian get where he is today and Brian acknowledges that fact. While a nice guy off of the track, when the belts are tight and the helmet is strapped on, Brian is a fierce and proud member of the PA Posse.
What was your first exposure to racing?
Leppo: I can't recall the exact date, but we started to go the sprint car races when I was about 6-years-old or so.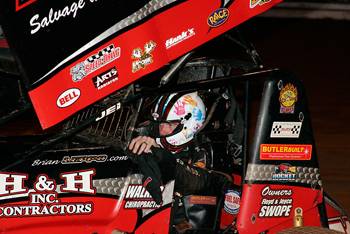 You've seen a lot of greats as a young child. Growing up, which driver did you most admire and why?
Leppo: I've always liked Stevie Smith, Jr. He was young and local, but being from this area, it's hard to pick just one, Van May is another, and Steve Smith (the original Black Bandit)
You raced Micro-Midgets for a few years before moving up to the 358 division...
Leppo: We raced micros just to take a step up to a little bit bigger car from the go-kart ranks to see how we did. We had a lot of fun and we would always learn a whole bunch about racing in general.
In 2003, after 1-year in the 358s, you jumped into a full-up 410 Sprint car. How hard of an adjustment was that for you horsepower wise and competition wise?
Leppo: The biggest adjustments that came were the major horsepower! You have this weight to horsepower ratio that is really crazy. There is so much torque, the wheels are spinning, and the car is wheeling. Good times for sure! As for the competition, in PA it doesn't get any tougher, you're either going to make it with these guys, or they're going to lay you to rest!
Every night is a tough night for Central Pennsylvania drivers. How does Brian Leppo mentally prepare himself to go out there and give it his all?
Leppo: I like to just do my normal deal throughout the day. Spend time with my wife and kids, and then go to the track or shop to get ready. I strap in and leave my issues aside…always right glove goes on first…then its business! Always trying my best to out perform the next guy.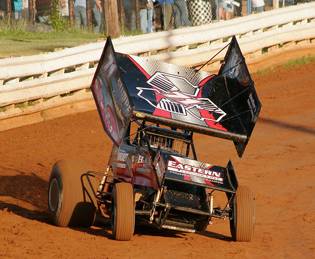 Besides the tough competition in Central PA, what's the toughest obstacle you had to overcome racing Sprint cars?
Leppo: Plain and simple don't be intimidated, by anyone!
What does the Skunk mean?
Leppo: We've always have had a taste for a black and white race car and that old skunk brings the fans in as well.
You won your first 410 Sprint car race in 2004 at Susky, in your sophomore season. It was an exciting one too! Take us through the race!
Leppo: I wanted to win my rookie year, but that wasn't meant to be. I wanted to win the first one at Lincoln, again that wasn't meant to be either. So I remember the first win, we held off Chad Layton and Billy Dietrich if I remember correctly. The deal took rubber fairly early, so you had to hit your line each lap, and pass lapped cars with patience.
Can you put into words what it means to you to be part of the prestigious Pennsylvania Posse?
Leppo: I've always dreamed as a kid of being part of this "POSSE" and it's hard to find the words to describe how privileged I am. I will say; damn it feels so good and it's definitely quite an honor!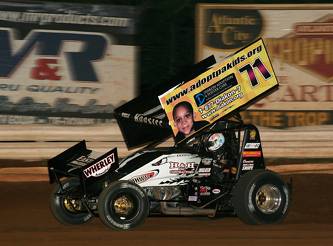 When the travelers (WoO – All-Stars) pull into Posse territory, do you prepare for the races differently?
Leppo: I would like to say no, but that would be a lie. My team and I definitely step up the program, from appearance to performance; we like to be on top of our game for sure.
I've always wanted to be taken for a lap around the famed Williams Grove Speedway. Can you take us fans for a lap?
Leppo: Let's take the green on that long front stretch and haul her down into 1. It's a little more of a sweeper, and on this night, it has a low curb, so lets stick our right rear on the ledge and let her eat, we're wide open!, just drag your brake if you want, and have confidence, she'll turn! Good corner guys, now you need to keep your speed up, so you can fly down the backstretch under the famous "bridge", our car will shift a bit as you go under the bridge. That's where the rigs go across, so hold on! Now we are hauling the mail into the tight turns of 3 and 4. You guessed it guys…to the top we go! The right rear is put near the fence! We cross the line, and there you have it, you guys were nice and smooth…QUICK TIME!!!
Brian, let's go one step further. Let's say that you're my crew-chief, and we're starting on the pole in the main event at "The Grove". We're starting on the outside front row. Inside of us is Layton, and behind us in row-2 is Dewease and Hodnett, row-3 is Kauffman and Esh. What advice would you give me to win the deal?
Leppo: From a crew-chief to a driver, my job is done, I have the car as close as we can get. You don't want to get played on the start, and that is on your shoulders, get the job done there first. Now run your race, seeing how you lined up on the front row, you already beat them to the front. Hit your marks and run your race, they'll be following behind, don't worry about them.
Since we're talking about "The Grove", your 2nd ever 410 Sprint car win came there this year against those travelers that we were speaking of earlier-The Outlaws. How did it feel to win a big show like that and defend PA Posse turf?
Leppo: That race took a long time to settle in for sure. I only won 2 races there. One was in the Apple 12 and now in the Swope 71. We killed 2 birds with on stone that evening. My car owners got there first career Grove win in 20 some years of trying, and we both got that ever famous OUTLAW win. Man it was awesome to see all the fans just going crazy!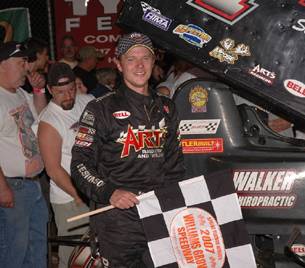 In your opinion, who's the toughest competitor night in and night out that you just know that's going to race you hard and make you get your elbows way up?
Leppo: I can't answer that question fairly, all of the racers here in PA are way up on the wheel each and every week. There's no way I could pick just one, or even two.
You mention Lincoln as your favorite track. In the '06 season you finished 11th in the final standings, but this year you jumped all the way up to 3rd in the final points, with 13-top 10 finishes! That's progress my friend! What's your take?
Leppo: Honestly this year wasn't what I wanted, but I'm not complaining. The 3rd place in points comes from having a very dedicated team that keeps us consistent and works hard all week long on a strong maintenance program as well.
You finished 10th in the final point standings at Williams Grove. In your opinion, what areas would need improvement to move up the point's ladder there?
Leppo: We had some issues this year that we will have worked out for next year. It was a new team that I came to with the Swopes. 2008 should bring a bunch more success to the team.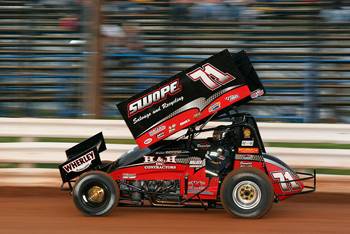 Who's the upcoming drivers that you see in the other divisions. Let's say that if you were a car owner, who would, you yank out of the 358s and stick in your 410?
Leppo: That is another question that I can't answer fairly. Our 358 division is so stacked with talent that numerous drivers in those cars would be a threat in a 410; they are what keep this sprint car racing going, with drivers moving up the ranks.
If you can win just one race in your career, which race would that be, and why?
Leppo: Hands down it would have to be the Knoxville Nationals! It is the INDY 500 of dirt sprint car racing, everyone is there trying to win that sucker!
What do you hope to accomplish in your racing career?
Leppo: I just want to do the best I can, and compete to the top of my level each and every race, and win them all if possible!
You're favorite driver is Stevie Smith, Jr., that is an awesome choice, but why is Stevie your favorite shoe?
Leppo: I've always liked him since he was young and man was he on the gas! Now Stevie is my brother-in-law, but he still ranks up there on my favorites list.
With car owners pulling out of racing, it must be nice to have good people like Floyd and Joyce Swope on your side…
Leppo: It makes my job easier having the Swopes as a car owner. They take care of my family, and it really is just like we're part of their family. They have been in the sport for a long time and we look to give them the results they deserve.
Speaking of good people on your side, it would be wrong not to mention the support your parents have given you as well…
Leppo: In my situation it's this easy. If I didn't have their support, along with my grandparents and family, I would never have had this opportunity. I'm doing my best not to let them down.
How do they handle the pressures and dangers that come with Sprint car racing?
Leppo: Just have to be able to take the good with the bad. Celebrate when you have success, and get back to the grinding stone for the next race. Everything is dangerous in life; I just race and go about my business.
Is there anything about Brian Leppo that us fans may not know about you, but you would like us to know?
Leppo: I'm really not as quiet as most people think. I have a beautiful wife, a beautiful 7-year-old daughter and a handsome 2-year-old son too.
Here's your chance to thank all of the people who help you get to the race track every week!
Leppo: I have to thank all my sponsors and product sponsors as well. We stay true to our supporters, and are always trying to help them out in return. Our race team appreciates all that our sponsors do for us. I also have the most dedicated crew around, that believe it or not, have been with me for 5 years or more. Lee Myers (Lee-Roy), Keith Sprenkle (Frank), Joe Ross (Joey), Justin Borror (Smokey), Rick Hoffenines (Iceman), Michael Gobrecht (Goby), and of course my dad Brian, and grandfather Earl Zinn.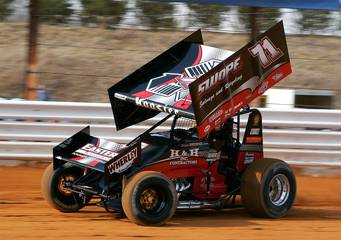 Brian, thank you for being such a good sport and allowing me to "Interrogate" you. May good things come your way buddy…
Leppo: I'm never one to turn down an interview. I can never get enough press that's for sure. I feel really privileged to be asked for the interview to be honest with you; I told you that from the beginning. Thank you as well!
To follow Brian and his team check them out here: http://www.brianleppo.com/ while visiting be sure to check out the awesome video put together by Bare Productions.
*All photos courtesy of Brent Smith