When I became a self-proclaimed wannabe scribe, John Meirhofer was always there for me. If he wasn't lending me his photos for my interviews, he was lending me his ear, and never asking for anything in return. I am honored to know this unselfish man. John has worked his ass off to become one of the top photographers in the business. What makes this man unique is also the fact that he is not only a photographer, but he is actively involved in the sport, trying new things by being pro-active. He is a die-hard race car junkie. One weekend you may catch him at Perris, the next weekend he may be at Chico. I thought it would be neat for us race fans to take a journey with the man behind John's Racing Photos…
What were you doing before becoming a photographer?
JRP: When I started I was in the Air Force stationed at Travis AFB. Currently I am a Medical Equipment Consultant. Obviously, being a photographer doesn't pay enough to live on. At least not in Cali.
You're a retired Military man. Thank you for serving our Country. How long were you in the service?
JRP: I was in for 24.5 years. It was an excellent experience and has put me where I am now. I had a charmed career in that I never had to live overseas or get deployed to parts unknown like so many of my friends did. Every day, every person reading this now should take a moment and think about those making sure our freedoms remain intact.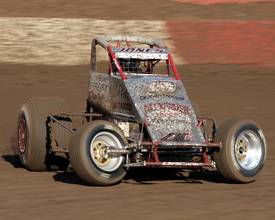 -Tony Jones gets aggressive at Perris
No doubt John. How did you get into motorsports photography?
JRP: My Dad gave me a Sears 35mm camera and a couple of lens. I played with it for a couple of years at NASCAR races and got a few shots published in Racing Wheels and Speed Sport News. I never took a photography course or Photoshop course. I just sort of learned as I went. Things were different then. You shot a roll of photos with each photo at a different setting and made notes. Sometimes you were dead on, sometimes not. You kept the good notes and tossed the rest. With the exception of auto focus I still use all manual settings. Of course now you can get a relatively good starter set up for less than $1000 and be reasonably proficient using the auto settings right out of the box.
Just like a driver's competitive passion to win, you've progressed into one of the top photographers in the Open Wheel world. Your work has been featured in the racing magazines, racing newspapers, websites, etc. My question is; are you competitive against other photographers?
JRP: Yes and no. I think you have to be at least a little competitive at times to get the shot you want. I do try to help others when I can. Like I said, I did not take any courses to get where I am. Other photographers helped me and I would like to think I have helped others. But in the end we are all trying to make a business out of photography.
Which type of race car is harder to shoot; winged or non-winged Sprint cars?
JRP: That really depends on the angle you are trying to get. Panning is the key to getting a good clear shot. Getting the angles right would be the hard part. If you cannot see the driver, or at least part of them, the photo to me is a bit boring. That makes the winged cars a bit harder in that respect. On the other hand getting a decent shot of a non-wing car is hard because there is no wing to fill in the picture. That makes it harder to get a decent shot with out a lot of unwanted stuff showing up in the background.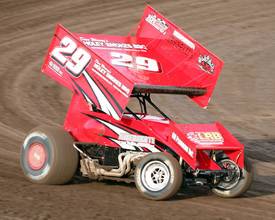 -Willie Croft pounds the Chico clay
How about track size. Do you prefer smaller tracks like a Placerville or larger tracks like Manzanita?
JRP: I have been saying this for a couple of years now and many disagree with me. Anything larger than a 3/8th for dirt sprint cars or midgets is going to be a boring freight train race. All of the cars are so evenly matched, and the drivers all of such high caliber these days, it is virtually impossible to advance on a big track. When everyone qualifies within a second of each other, by the time the main comes around those 24 cars are within .5 second of each other lap wise. It doesn't take a rocket scientist to figure out that it will take about 30 or so laps for the fastest car to catch the slowest car on a ½ mile track. You could do a total inversion but you would just wind up with guys sandbagging to start in the front.
What are you looking for at each track?
JRP: Something different to shoot. Not much more than that really. I am just happy to be at the track watching a race. Every time I go to a track I try to think about what I am taking the photos for. Then I try to come up with an angle or idea that will make it different or better than the rest. Sometimes it works and sometimes it doesn't.
I can speak from experience on your generosity. I see your pictures allover the internet on drivers' websites, etc. Some photographers are hard cases about sharing photos, but not you, why?
JRP: The same folks that are the recipients of my "generosity" as you say are the one's that make John's Racing Photos possible. They buy the photos all year long and year-after-year. The least I can do is help them out with photos for their websites. As time has gone on it has become harder and harder to accommodate everyone that needs photos for their site. That is why I started "The Big Picture". It is a pay site (mostly to help offset the cost) but it is a nominal fee and allows anyone that subscribes to get the photos they need.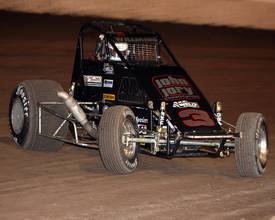 -Rip Williams shows form at Manzanita
Tell us more about "The Big Picture" http://www.johnsracingphotos.com/ what's it all about?
JRP: "The Big Picture" is a pay site that gives subscribers access to nearly 30,000 photos from John's Racing Photos. They date back to 2003 currently. Soon I will be adding photos from prior to that. All photos are in 800x640 and at 150dpi. This means you can use them as wall paper or a screen saver on your computer, if you're a team use them for your website or hero cards (with credit given of course), and in most cases even print them up to 5x7. By the end of 2008 there will be nearly 50,000 photos from not only sprints and midgets but NASCAR, NHRA, CART and IRL.
If you could pick one track that you could shoot every week, which one would that be, and why?
JRP: I don't think I could shoot at the same track week after week. Eventually I would get bored and not go. You can only shoot the same cars in just so many angles.
What track are you just itching to shoot?
JRP: All the tracks I have not been to. I really want to shoot at Ventura though, before I leave California. There and Quincy are the only dirt tracks in CA that I have not been to. I am really looking forward to my move back to the Midwest. I went to Beaver Dam this year for WoO sprints. I had not been there since the late 70s. It has changed a bit. I cannot wait to see how some of the other tracks look now.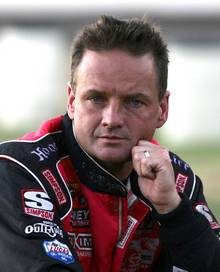 -Craig Dollansky in deep thought
I've seen your flip sequences. Is it a matter of just being at the wrong place (for the driver) and the right place for you?
JRP: Pretty much. I am generally in turn two once the heat races start and stay there. Sometimes there is a lot that happens and sometimes no so much. You just have to pay attention and watch. Sometimes I notice drivers trying to make something happen that I just know in the back of my mind won't work. Sure enough a couple laps latter they give me one of those 10 frame flip sequences. I think the photographers that take the best shots understand the cars, the tracks and the drivers. If you don't take the time to learn what you are shooting you have no way of knowing what makes a good shot. Once you do that you can tell what a car is doing or not doing and what the driver is getting ready to do to make something happen for them.
Now, during the flip sequence, you're sometimes vulnerable to the race cars. Do you have a technique that you use to avoid injury, besides running!
JRP: Running is pretty much it. (laughs). I always make a mental note of where the tires and light poles are. A tire won't stop a car, but will hopefully slow it down enough to get away. When the racing is tight I also shoot with both eyes open.
Speaking of running, I'm sure you've ran a time or two. With that, please share some stories with us...
JRP: One time at Chico I was standing in front of the infield tire and a car spun into the infield right at the tire. The safety crew was standing on the tire. There was a ton of dust and after the car stopped one of them started calling my name because he thought I had been hit! I had moved out of the way and actually wound up with a photo of them bailing off the tire. Also, this year at Manzy for The Copper, during hot laps for the midgets, I felt something skim across my lens and glanced to the right just in time to see something blue bounce off into the dirt. After that session I went and checked and found a bleeder.
Who always seems to spit fire in your lens when they hit the race track?
JRP: If by spit fire you mean shows sheer determination and will I would say three people come to mind, all from California. The look in there eyes even during qualifying is one that is unforgettable. Those three are Damion Gardner, Tim Kaeding and Jonathan Allard.
-TK readies for war
Great choices! Now in what ways do you shoot differently, let's say from the heat races to the main event?
JRP: During hot laps and qualifying it is all about getting the single car photo that can be used for media promotion. A crisp clear photo that shows all of the sponsors. During race action it is just that, trying to show racing.
What type of surface do you really like to shoot at? Tacky or slick, and what changes do you have to make as a photographer throughout the night?
JRP: I personally like the tacky tracks. I like to see the left front pulling up off the turns. I do like the occasional slick track just to see the versatility of some drivers.
When the main event does go green, what part of the pack do you follow barreling into the turn?
JRP: I usually follow the third row back. Somehow someone will manage to take even the narrowest of tracks three wide and I do like to capture that when it happens.
Who's your favorite photographer(s) and why?
JRP: I would have to pick Michael Hill. Not because of his race photos but his landscapes. He puts a lot of thought into his photos and the artistic side of it really shows through, especially in his landscapes.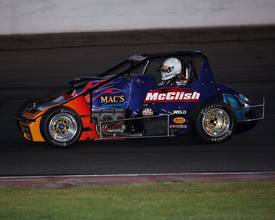 -Brian McClish at Madera
You're not only a photographer; you're also involved in making "hero-cards", websites and some other nice things as well...
JRP: Although I do not do as much as I would like to I do, I like to "design" stuff with Photoshop and my photos when I can. I do make handouts and custom photos. I can also design websites from a one page design to multiple pages. I wish I had time to do more of it. SprintCar PR is going to be the avenue for me to do that. Eventually I would like to be able to offer a team an entire media package. One that would include everything from the hero card to the graphics on the hauler, the website, t-shirts, team shirts, media packets for sponsors and other general merchandise.
Tell us more about SprintCar PR http://www.sprintcarpr.com/ share with us what the website is about….
JRP: SprintCar PR was started as a means of providing everything Sprint Car in one location. We are working on getting writers from across the country to put out media content for the drivers they represent. We also provide a place for photographers to sell there sprint car photos, drivers without websites to sell their merchandise, or get a website. We will be adding T-shirt designers (most notably Randy Frank) and print companies where you can get your T-shirts designed and printed. Graphic designers that can do vinyl work for your car/hauler and what ever other content we can fit in as it pertains to Sprint Cars. By the end of next year I am hoping to have a 10-20 minute weekly web cast as well the will showcase major races across the country with both video and commentary. And of course, it is also a place for manufacturers to advertise their product where it will reach their target audience.
SprintCar PR put up some money for "The best appearing car" at this years Gold Cup. The immaculate NMI Sprint car driven by masher Greg DeCaires took this years honors. Is this a long term deal that you're trying to do, if so why?
JRP: I hope it turns into a long term deal. I don't really intend to do it long term myself, but I do hope that it becomes a regular part of the Gold Cup. I am tossing around some ideas for next year with a few others that include having it as a "Best Painted Car" award with money paying out to the owner and painter. Most of it will depend on what kind of sponsor we can dig up to support it. It costs a considerable amount of money and time to hand paint a car so a significant sponsor is going to be needed. (Hint! Hint!)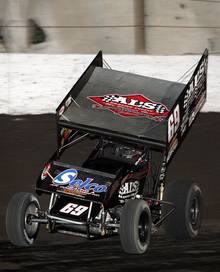 -GSC Champ BK at Calistoga
You're an important part of the racing community, so I need to ask; what's next for John's Racing Photos?
JRP: The next thing for me is to move to the Midwest. Sometime in 2008, I will be moving to Eastern Iowa. Hopefully I will be able to pursue John's Racing Photos and SprintCar PR full time by the end of 2008.
I must thank you my friend for all that you do for us, and allowing me to "Interrogate" you. We'll catch you down the road…
JRP: Your welcome my friend!
Be sure to check out John's photos here http://www.johnsracingphotos.com/