The #71 Sprint car has been one of the most prolific Sprint cars in California Sprint car history. With shoes like Wayne Sue, Jimmy Sills, Tim Green, Rick Hirst, Darrell Hanestad, just to name a few, have sat under the wing of the well known mount. Nationally known long-time car owner Richard Lovell, owner of Yuba City Scrap & Steel that us race fans have grown accustomed to seeing on the wing, has Ďretiredí from full-time battle. While one chapter has closed, another has opened as son; Korey is now the owner-operator of the powerful mount tearing up the tracks in Northern California. This kid from Yuba City has seen it all. He has worked for the best, and has also traveled all over California watching the best of them ďget after it!Ē in the family owned Sprint car. Korey Lovell knows Sprint car racing. He is from the ďold SchoolĒ. Heís busted his ass rebuilding torn up race cars, and now as a driver, has become a threat to win anytime he pulls into the pits. Even with all of this, he still remains one of the nice guys in the sport. I chatted it up with the Yuba City gasser...
How old were you when you were first exposed to Sprint car racing?
Lovell: The first recollection I have was, when I was 4 or 5 years old at Chico. My dad got his first Sprint car in 1975.
When you were young, did you travel with the car?
Lovell: A little bit. When I was around 12, we went to the Knoxville Nationals; we went to Devilís Bowl that year too. We got to go back there that year.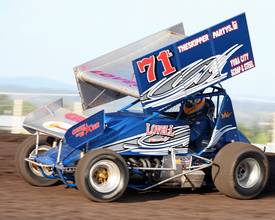 Did you have a favorite to tow to when you were that young?
Lovell: Knoxville has all the history and all the stuff. But at 12-years-old, it was all about the snack bar back then!
Who was driving the car back then?
Lovell: That year it was Jimmy Sills.
Was their a certain driver that you idolized when you were growing up?
Lovell: There's so many in the past that drove for us that were great. We can go from Tim Green, Sills, Ron Shuman, Steve Kinser, Jac Haudenschild, and Doug Wolfgang. I mean there have been so many good guys that have been in it. Once I started working on the car though, it was probably Darrell Hanestad.
Great choice, but why Darrell?
Lovell: He just fín stood on it! He was always so happy go lucky and was always in a good mood. He was all about just standing on it!
Iím sure you have a lot of good stories from those earlier days. Not that youíre old by any means!
Lovell: Oh yeah! I remember going to Skagit, and all of the fun we would have. Just a bunch of different things. It was pretty crazy when we were young but, if youíre having a good time itís all worth it!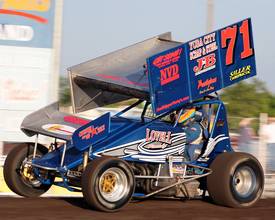 There should be a book called "The Lovell Legacy!" The Lovell name is synonymous with not only California Sprint car racing, but Sprint car racing throughout the U.S.
Lovell: Yeah, a couple of years ago, my dad got put up for the 360 car owner of the year when my brother and I ended up 1st and 2nd in the Championship at Marysville. I think weíre lucky just being able to do it. We never went to the track needing anything. I was brought up in the right direction. Money doesnít grow on trees, and you have to work your butt off on the car and do whatever it takes to race!
After wrenching all of those years, when did you decide to start racing?
Lovell: We wanted to for a long time, but my dad didnít want to start over basically. We started doing the Modified Midgets when we were already 20 or 21-years-old. We got to run the Midgets when we werenít running the Sprint car. We really didnít get to do a full season almost anywhere with those. We had Garry Brazier in the car for GSC that season and we would take the 360 whenever we would run Chico. Kevin and I would take turns.
Each season, we could see you get faster and faster...
Lovell: It was tough for me. I ran the 360 a few times, and finished 2nd in my first Civil War race that year. It was also the first time I ran a 410. It was at the Gold Cup, it was like in í96. I ended up winning my heat. Steve Kinser was in it! I went on and finished 10th on our night, but failed to make the A for Saturday. The Ď97 season at Marysville, right out of the gate Kevin and I were on the front row for the first race, and I went on to win the night. I ended up winning 4-races that year.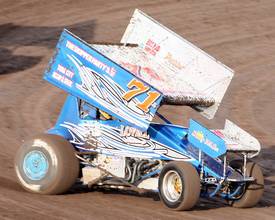 Speaking of Marysville, whatís you opinion of the joint? You seemed to have no problem getting around there...
Lovell: Oh hell no man! I used to whine about Placerville, but I still went! Itís just one of those things. Once you get used to it, itís like anywhere else. Itís just as racy as anywhere else. Whether itís hooked up, dry or crappy. No matter what the track is like, you can run two grooves. Itís not a bad place. It seems like if you grew up at Placerville, you didnít like Marysville. And if you grew up at Marysville, you didnít like Placerville. My biggest goal was to go and start liking Placerville, because they have so many Civil War races there!
Where do feel most comfortable running on the race track?
Lovell: I would have to say that when the track goes to the bottom, I just lick my chops! I like running Chico, and hauling her in there and all that, but I just love running the bottom of the race track. I had fun with a few drivers at Marysville one night. We were walking around the track after the heat races. I told them that if youíre two feet off of this line, Iím passing you! I was talking about the bottom of the race track. With Marysville itís was all about being in the shit or being on the tacky part of the track. One night I was walking the track with Ryan Flynn and Destiny Hayes, and I told her if youíre not right here (the bottom) Iím going to pass you. She was on the pole, and I was in the 2nd or 3rd row. She led the whole thing, and I passed her with 3-laps to go!
Are you content on what youíre doing now?
Lovell: I donít know. At this stage of the game, Iím pretty much settled in here. I canít just up and move to Indiana, but Iíve threatened it a few times over the winter! I donít know anybody there, and I do have it pretty comfortable over here.
Do you toy with the thought of running with the GSC fulltime?
Lovell: I would like to, but there is a lot of traveling. I donít mind the traveling, but that is where the Civil War deal is really cool. You donít travel a lot and the racing is good. It would be great if somebody wanted to pay the bills, but I still have a regular job too. I leave around 3:00 p.m. for the Friday Chico shows, and that alone puts a little strain on our business.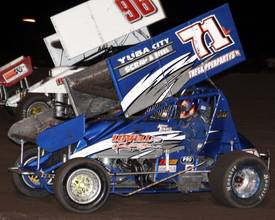 Youíre talking about the family owned Yuba City Scrap & Steel?
Lovell: Yeah, Iím really lucky. All of the race cars are on site. I have my own shop here. My dad helps me a lot, and he actually still sponsors me. He didnít cut the cord on me. I figured we could make it work, and weíll see what happens the following year!
With all of the years wrenching on these things, did it help you as a driver?
Lovell: Oh hell yeah! Like I tell people, driving is the hard part. I can put one of these cars together in the dark. My whole thing was watching and setting it up. Iíve always watched, made adjustments and set it up. I was good at working on the car, so when I started to drive, it was a big adjustment. I wasnít sure of myself for a while.
It sounds as if you had a lot of confidence in yourself as a wrench. Did you ever second guess your dad?
Lovell: Oh yeah definitely! (Laughing) Weíd get drinking a little bit at the races and on our way home from the races. I would ask him what if we did this to the car instead of that, what do you think the car would have done. He used to get madder at me then anything! I was just trying to figure out what it was supposed to do. We had many nights with many fights with nights like that.
In my opinion, California Sprint car racing would not be the same without the #71L in the pits. That number carries a lot of history as well as memoriesÖ
Lovell: (laughing) Iím just glad someone else thinks so! Really, Iím just able to do my favorite thing in the damn world! Iíve had this little girl come down to the pits for the past three years to have me re-autograph her shirt in the same place, because it has faded from where I signed it last time. Now thatís really neat. Some of the people that come down are just amazing, and I just canít thank them enough.
Who would you like to thank buddy?
Lovell: Gary, we donít have the biggest and best budget, but we have everything we need. Thanks to my father, my brother Kevin, my crew-chief Craig Hall, Bean, all of my sponsors who have helped me all of these years. Rodney, from http://www.theskipperpartys.net/. Heís kept me boosted up, and he keeps the confidence factor on full-tilt. JB Racing Components, Lee Brewer, and I couldnít forget to mention my beautiful, supportive girlfriend. Robbie Padjen has also been really supportive of my racing. I would also like to thank all of the fans. I really canít thank everyone enough!
*Special thanks to Johnís Racing Photos http://www.johnsracingphotos.com/