The NST weekend opener at Tulare has come and gone....
I hit Highway 99 like there was no tomorrow. I couldn't wait. I didn't sleep the night before. I find It funny how these things can make you act like a little kid. I was like a bull in a china shop getting out of town.
I've been doing this for a while now, and I think my passion for the sport has actually deepened.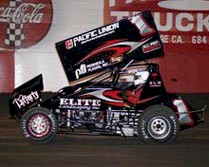 (One of California's finest - Ronnie Day)
Anytime I can see a Sprint Car race , I feel it's an absolute honor. I've been watching them get after it for 35 years now and I still get the chills when the cars hit the track.
I can only report on Friday's inaugural race. I came down with a flu that Joe Frazier couldn't whip. So I only was able to take in a couple of Saturday's heats. Hey, we've gotta look at the glass half full though. I still was able catch a Sprint Car race right?
As I entered the speed plant, I saw a lot of beautiful race cars. Even today, when I enter a pit, I still get those butterflies. Do we have a great sport or what!
As I was doing my pit stroll, I came across the always entertaining Steve Osborne. Race fans, if you want to meet a really nice guy, go check out Steve.....you can't go wrong.
I was so overwhelmed when I entered the pits. Lots of color, and lots of neat people walking around. My girlfriend really liked The Selma Shell 11H, (I think she liked Lucas) she said it was pretty, but I told her 'pretty' is not a word I want to use. I said that's a 'badass looking car!'
Other 'pretty' cars she liked were the Forbrook 5, Rudeen Motorsports 26, and of course her favorite, Brent Kaeding's black 69. Yes, she is partial to Brent. I think if the Kaeding Performance #69 was a bucket of rust she would find it 'pretty'.
California Sprint Car fans should note, Brent Kaeding is back in the familiar black. Brent looks like he has been in the gym, and with his 'new look' and the car black again, watch out!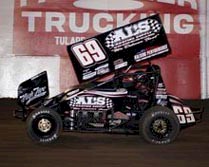 (Brent Kaeding)
Friday in the autograph booth were Lasoski, Meyers, and Lucas Wolfe. I was wearing a Chad Layton shirt, and as I approached Lucas, his eyes widened! At first I thought my ugliness startled him, but he was interested in how I obtained my Layton shirt. What a nice kid. He had a tough weekend, but in this writers opinion this kid is a gasser and a class act. I can see why he was a fan favorite in Pennsylvania.
I made my way through the breezeway and finally to the frontstretch to check things out. In the infield they had these huge speakers. Blasting out of those speakers was Aerosmith. Some music mixed in with the smell of the race track, oh baby! I was getting excited, I'm doing a little dance on the straightaway, my girl just doesn't understand, but I don't care. I'm in my element......my home so to speak.
I was enjoying a great conversation with flagman Jake Vickers. Look for Jake on flag stands throughout California. He will be waving the green flag for the GSC and selected Civil War shows.
.........rumble, rumble, rumble!!!!!!!!!!!!!!!!! Here they come. As they idle past, I can't get enough, so I move in closer. I need that methanol to burn my eyes! Do ya feel me!
Hot lap time! As they idle under yellow, everyones excitement builds. Jake flicks the green light on------------WHOOSH!-WHOOSH!-WHOOSH! These guys are flying!!!!!!!
My girl has been to many Sprint Car races, but she hasn't really been on ground level, or that close. I looked over at her after the first hot lap session, and her eyes were as big as softballs!!!!! I loved every minute of it.
(Shane Stewart and Lasoski)
I get off on the sound of Sprint Cars period. But when it's one of those wound up 410s, you just can't put it into words.
Before we get into the actual racing, I want to touch on results. They can be deceiving. They show where you started and finished, but obviously don't carry the excitement of the race or tell the whole story.
Take for example Heat 1 - TK and Kevin Swindell waged high speed war with one another. Tim got Kevin on the last corner of the last lap, and proceeded to go upstairs to do it. The fans went wild........And so did I! Also in this heat, Ronnie Day was flat on the gas. He started in the back, and the veteran made some crafty moves to earn himself a transfer into the main. Great job Mr. Day!
In Heat 2 - Tatnell was gone. He and the car became one!
Heat 3 - Wolfe did a superb job. For his first time at Tulare, he Hit all his marks and got around the joint like he's been there before.
Heat 4 - The youngster from Rocklin, California, Robert Ballou held off Steve Kinser and Joey Saldana to catch a very entertaining heat race.
With the dash wins coming from the Steve Kinser Racing stable, that put Tim and Steve on the front row. Tim elected to start on the outside for the "A".
The 4 transfers out of "B" were: Jason Solwold, Travis Rutz, Garrett Ishii and Craig Stidham.
As we move to the "A". NST officials were throwing shirts into the crowd, as well as cannon balling them into the air.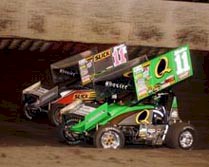 (TK and Steve going at it!)
Main event time; The cars went into 4 abreast formation, to salute us great fans. They didn't go around just once for us, but twice! My adrenaline was on overload!
The green comes out! Kinser and TK go at it! Ronnie Day is making some sweet moves. Here comes Joey! Here comes Solwold! Guys are making move after move! Shaffer is on it! Here comes Sammy!
We have some yellows. That didn't take away from the action though. My heart was pumping out of my Chad Layton shirt!
TK goes under Kinser during a restart! Kinser gets the point again, but HERE comes TIMMY!!!!!! Working through traffic, and the fans going wild! Sammy and Saldana side by side, with the cars dancing in unison! Day pulls a front stretch wheelie and passes Shaffer!
Oh no, Jake waves the white flag, I realize the race is coming to an end.........then the checkered........Steve, Tim, and Jason Meyers round out the top-3.
I rush to where Steve pulls up. He's tired and sweaty. The guy is a warrior, not just a legend. Writer Bill Sessa was standing next to me, and I said to him 'You know, I never get tired of watching him win'. I really don't. I'm just so honored to be able to watch him race.
I had a great Friday. Some people may have seen this race differently than I did. But I look at it like this; My worse day at a race track is better than my best day at work! Life is too damn short to always be grumbling, or always wanting to find something bad about our beloved sport.

(A happy Steve Kinser in victory lane)
I choose to see what's right about our sport, and to enjoy it to it's fullest while I'm still here. I want to make it clear that I'm not partial to any one club. I just love Sprint Car racing. I'm a fan before a writer, and that's how we here at "Interrogation" choose do it.
I want to also go on record and state that I love the World of Outlaws too. And for some to call those guys the 'Lean 15', and bash them, is in my opinion, just ludicrous.
I'll just leave the politics to some of the experts on the message boards.
*******************************************************
All Photos Courtesy of John's Racing Photos www.JohnsRacingPhotos.com